ClothingWorks Winter Donation Drive and Give Away
ClothingWorks is hosting a Winter Coat & Accessories Donation Drive and Giveaway Sponsored by the Westmount Shopping Centre, and in partnership with Curiosities, Tyner Shortens, & Lifestyles women's wear.
Help us give the gift of warmth to our community this winter!
The ClothingWorks Donation Drive will take place from September 19 to October 10, 2022.
Winter Coat and Accessories Donation Drive
What to Donate
Please donate gently used winter items including:
•coats •hats •gloves •scarves •warm socks •hoodies •sweaters

How to Donate
1.) Gather gently used winter coats and accessories you wish to donate.
2.) Label all donation bags 'CW Winter Coat Donation Drive'.
3.) Drop off your donations at any of the designated drop-off locations below.
Where to Donate
Horton Street Goodwill Donation Centre 255 Horton St E, London, ON N6B 1L1
Sherwood Goodwill Community Donation Centre 1225 Wonderland Rd N., London, ON N6G 2V9
Oxford East Goodwill Donation Centre 1165 Oxford St E., London, ON N5Y 3L7
Goodwill Boutique and Donation Centre 765 Hyde Park Rd., London, ON N6H 5W9
Strathroy Goodwill Donation Centre 351 Caradoc St S., Strathroy, ON N7G 2P3
St. Thomas Goodwill Donation Centre 321 Elm St, St. Thomas, ON N5R 5X6
Click here to view Goodwill Donation Centre drop-off hours.
Tyner-Shorten Clothiers 1152 Fanshawe Park Rd E, London, ON N5X 3Z8
Life Styles Of London 615 Richmond St, London, ON N6A 3G3
Curiosities 174-1/2 Wortley Road, London ON N6C 3P7
---
Winter Coat and Accessories Giveaway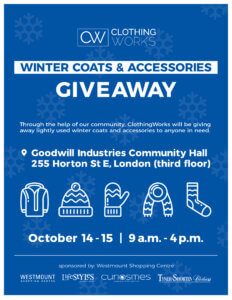 Through the help of our community, ClothingWorks will be giving away lightly used winter coats and accessories to anyone in need.
🗓 October 14 – 15, 2022
🕘 9 a.m. – 4 p.m.
📍Goodwill Industries Community Hall, 255 Horton St E, London (3rd floor)